I ran a 5k over the weekend. One I had totally forgotten about until the day before. WHOOPS!
It was Adam (Boring Runner)'s Freeze Your Thorns Off Virtual 5k. I forgot about the race until the day before the event - really, until just before I left for good-bye happy hour for my friend who is moving back to Canda. Oh God. HH drinks was a few hours after the good-bye lunch. (Where, I was very good and had a salad w/ no dressing). And HH drinks was immediately before dinner out with Mike's niece & parents. Ohhhh God.
I carefully planned my morning. Just kidding, I slept in until 11 (more on that later) and rolled out of bed. I put the dog in front of the fireplace & managed to stumble into my running clothes. Realizing I was starving (didn't eat much at dinner the night before), I inhaled 3 dried turkish apricots and was off.
Racetime temperature was 40.1 degrees, courtesy of our fancy new weather station from Christmas. Light breeze, falling barometer.
I decided to run mostly around the Ballard Locks - a major Seattle landmark about 4 blocks from my house. The locks serve as a way for boats & marine traffic to access Lake Washington (fresh water) from Puget Sound (salt water). It's kind of like the Panama canal.
See that bendy, smaller part? That's the small Lock. The opposite side (to the R) is the large lock (it continues out of frame). The the left are the gates that control the height of the lake.
ANYWAYS. It's pretty much deserted in the winter and provides great views of the water, animals, boats, and the neighborhood. I powered my way down there (.3 m) and slammed on the breaks.
1) There were tourists. Everywhere. With strollers and dogs and grandparents and video cameras.
2) Apparently they turned my ever-so-reliable water fountains off in the winter. I was thirsty.
FML.
I ran up and down the large lock (about .4m) and made my way across the gates that control the level of the lake.
At 1m, I saw the most ADORABLE dachsund puppy. I stopped to pet it.
This is one of my parent's dachsunds, Dori. She has a party hat on.
At 1.25m, the prettiest Bayliner I've ever seen pulled up with a few other yachts to head into the small lock. The boat show is next weekend and dear LORD those were some pretty money pits.
I continued on after some brief ogling and headed out into the neighborhood directly across the water - Magnolia. It's pretty. VERY hilly. I ran up and back a few times, and tried the water fountain on that side at 2m. No dice. Mouth felt like cotton at this point. BLECH.
Ran back across the lock (stopped Garmin when impeded by aforementioned strollers and dogs. GRRR!)
A busier day. Sun + boats = tourists
Decided to just run the large lock kind of like a track - except it's U shaped. Cruised for a while. Ignored tourists.
That really pretty Bayliner? Raced it coming out of the small lock. Held 8:30/min pace for .2m. Who else can say they raced an MF'ing boat during their 5k?!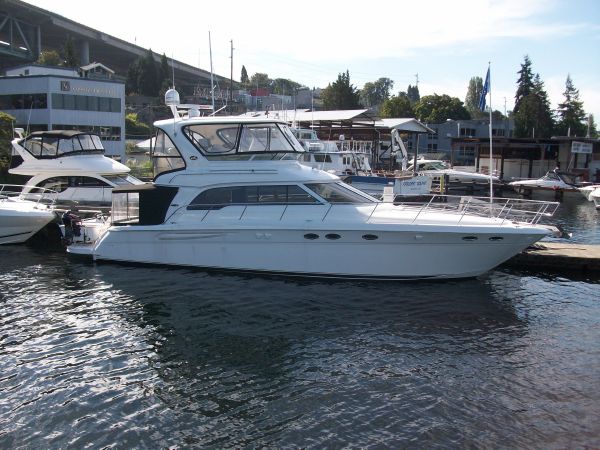 The boat I really want - a 48' Sea Ray.
Finished up with a 3+ min PR. It's not a PR due to the stopping, but whatever. It was fun, I did it by myself, and probably entertained a few tourists along the way.
So, yes, successful Saturday. We haven't slept for more than 90 mins at a time for over a week now - the dog has a cold and can't breathe, so when he can't sleep, we don't sleep. I'm running on fumes, so I took a rest day today. HUZZAH.